University of Central Florida Technology #34418 (Intelligent Object Magnification) received a 2021 Innovation Award from TechConnect.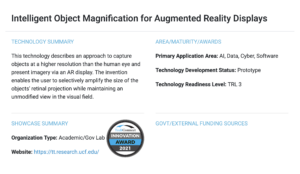 This technology was presented in the AI, Data, and Cyber session. Review panelists included U.S. Marine Corps Warfighting Labs at Quantico (portfolio development in AI) and the U.S. Naval War College.
See more on this project at UCF Technology Transfer.
The co-inventors on the associated pending US patent application are Prof. Gerd Bruder, Zubin Choudhary, Dr. Kangsoo Kim, and Dr. Greg Welch.